Being able to make all these cool drinks I see like on Tipsy Bartender (which if you have not seen him, check out YouTube!) for friends and family is now doable with the Mixologist Cocktail Shaker. Basically Cocktail Shaker is a must have in the kitchen or bar. It is perfect for party and get togethers. You also save 70% or MORE when using your own ingredients at home. This cocktail shaker comes with a built in strainer and a jigger that can measure either 1 or 1/2 ounces
PROS
– It is made from premium stainless steel, so it is suppose to be built to last long.
– It is user friendly and dishwasher safe.
– BPA Free and FDA certified.
– It has a built-in strainer – which keeps out ice and fruits!
CONS
– It promises it is "leaked free" but it did leak for me on the first drink :/
– Says it comes with an e-book for cocktail recipes, never received it though.
So a cocktail shaker is a must have, but Mixologist Cocktail Shaker looks like it could be a bust. I would love to share the price, but they do not have them no longer on Amazon either, So.. can not really promote it, you know.. Buy With Confidence! We Offer a "No Questions Asked, 100% Money Back, Lifetime Guarantee" if you are not fully satisfied. I guess that can be a plus.
Let us move on to something awesome.. Now let me share with you my favorite drink as of right now! It is called a Mongolian Mother [lover]. It is a cross between a Long Island Iced Tea and an Alabama Slammer. Which I must say both of those are awesome drinks as well! It is an absolutely delicious drink and it is a sneak attack type of drink, like you would not know you are drunk til you were, lol. You think you could handle all that alcohol? lol I promise it is good and is not crazy strong.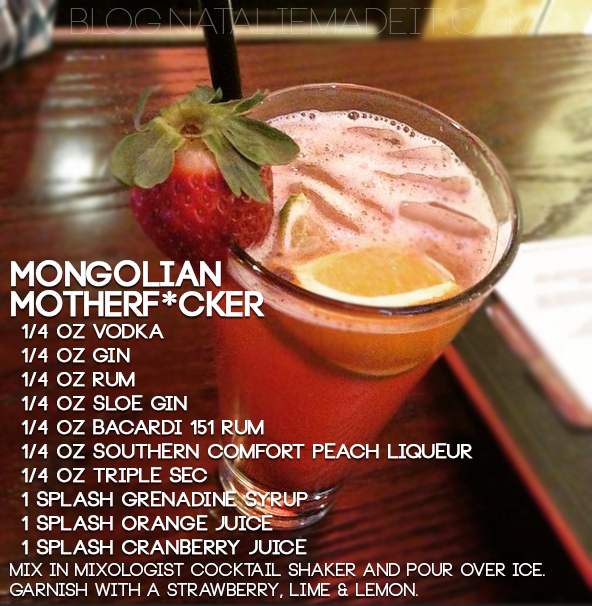 disclosure: The Booming Product brand supplied me with a Mixologist Cocktail Shaker in exchange for a honest review.
What's your favorite cocktail drink?