Am I the only one who is over Summer and hot temperatures? I sure hope not. With cooler temperatures comes all those great autumn scents and autumn recipes right in time for Thanksgiving. Throughout the new few months, I am going to gather some of my favorite recipes from all types of bloggers and share those Autumn recipes with you now.
Instant Pot Turkey & Sweet Potato Chili
If you are on the hunt for the best Instant Pot turkey and sweet potato chili in the world, you found it. This recipe is my tried and true sweet potato chili that I have been making for years. Creamy, protein-packed, sweet potato loaded, spiced up chili that will knock your socks off. If you are a fan of chili, this recipe is a must. The Instant Pot gives you that slow simmer flavor but made in a hurry- it is perfect for fall!
Gluten-Free Apple Pear Tart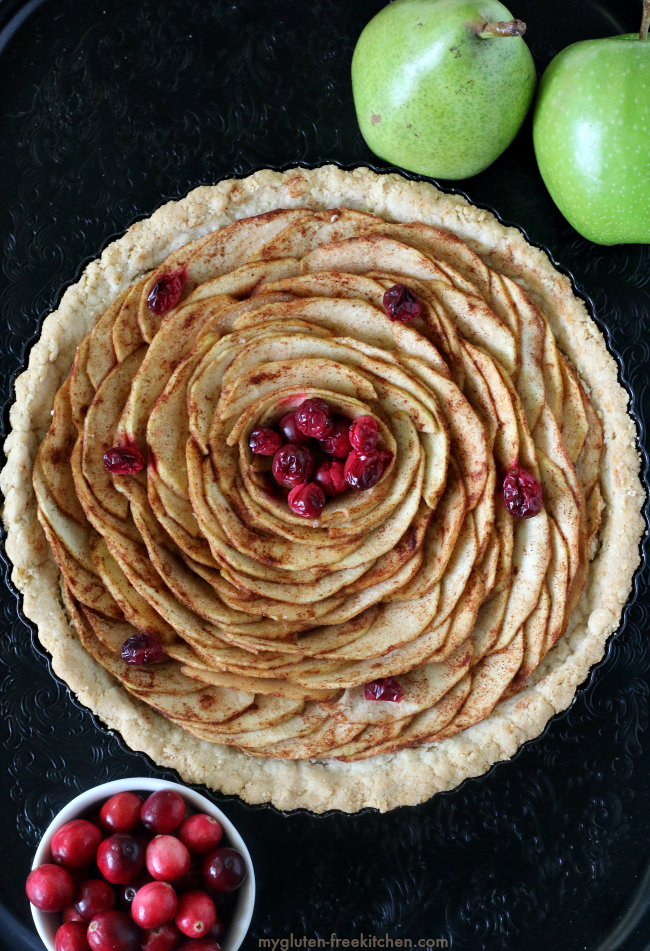 For today's gluten-free apple pear tart, I ventured hesitantly into the land of traditional pie crusts, but went for one that still had a twist in texture and flavor. Boy or boy am I glad I tried this one. The texture: perfect – holds it shape but crumbles nicely when you cut into a bite. The flavor: crazy good – I adore the almond flavor! This is the crust I've been looking for for years!
Maple Glazed Pumpkin Scones
These maple glazed pumpkin scones are light, tender, flaky and full of pumpkin goodness. Of course, they also have that "flair" of fancy type food that we appreciate. It's just how we roll around here. As for different choices in the ingredients, you can use white, wheat, or any combination of the flours you prefer. Both will give the same flaky results.
Autumn Harvest Pizza
Autumn Harvest Pizza features roasted vegetables; butternut squash, carrots and garlic, buttery cheese, kale and pancetta to give you the best of fall in a fabulously delicious pizza! One bite of this Autumn Harvest Pizza and I was in heaven.  From the garlicky crust to the crispy kale, everything is pure perfection on this pie.
Acorn Snickerdoodle Cookies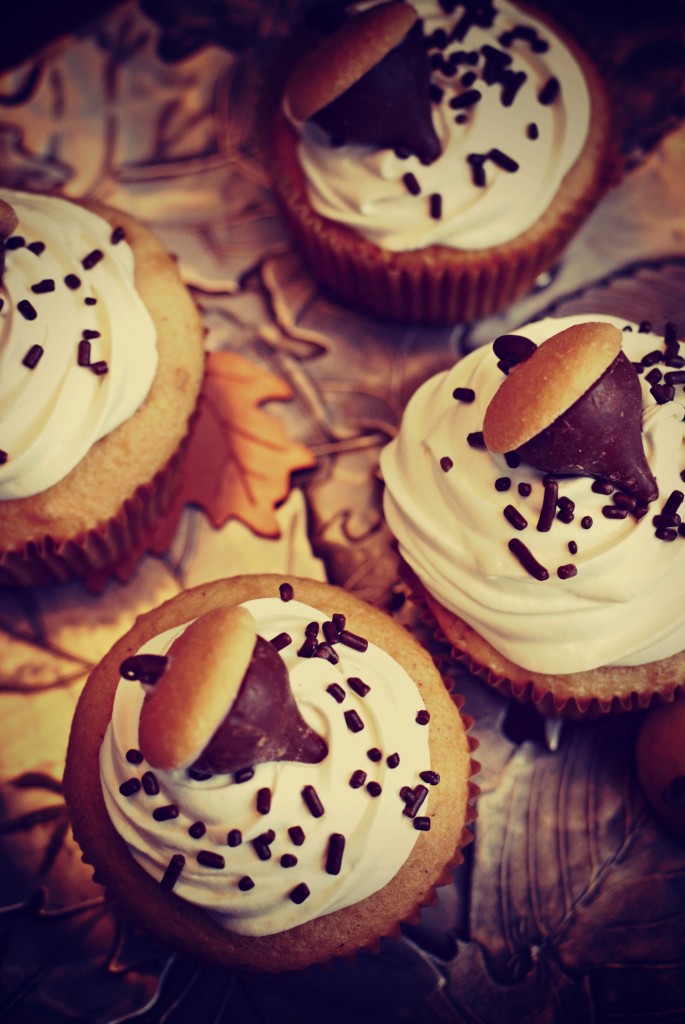 It all starts with the cake.  I purchased a simple yellow cake mix  and doctored it up to make the cupcakes taste like Snickerdoodle cookies.  All I did was add 1 teaspoon of cinnamon, and 1/2 teaspoon of almond extract to the batter. To celebrate fall, I wanted to make them festive and fun so I created some candy acorns that I saw on Pinterest a long time ago.
Raw Vegan Pumpkin Cheesecake
Raw vegan pumpkin cheesecake recipe made with creamy cashews, a walnut date crust and spiced up with the classic cinnamon and nutmeg fall flavors. To make things as easy as possible I used a dozen silicone muffin cups to create cute miniature cheesecakes. No fuss, no mess, just a light dusting of nutmeg and cinnamon before serving.
Cinnamon Maple Nut Butter Covered Apples
All the flavors of fall converge in these easy, real food Cinnamon Maple Nut Butter Covered Apples. In the name of ease and heath, I decided to take some of my fresh Fuji apples and cover them in delicious stuff I had on hand. Like nut butter, honey, and coconut oil. I figure these things are better than all the sugar that even homemade caramel sauce entails. Plus, these are dairy-free, too!
Pumpkin Cheesecake Muffins
Fragrant, soft and deliciously sweet, Pumpkin Cheesecake Muffins are seriously THE BEST thing this Fall. These muffins are made with ALL HEALTHY ingredients and they are REFINED SUGAR-FREE. Flavored with real pumpkin and warm spices, filled with a cream cheese surprise it's a dessert that will make you wish pumpkin season last all year long.
Pumpkin Chiffon Pie Bars with Pecans
These easy pumpkin chiffon pie bars are my new top dessert for the holidays! Try out these pumpkin pie bars for amazing fall recipe that packs pumpkin flavor. Fall means cool weather, brown leaves and pumpkins galore, and we're super excited for it all! I am so ready for the holiday season, lots of food, family and laughs to be had.
Pomegranate Pear Salad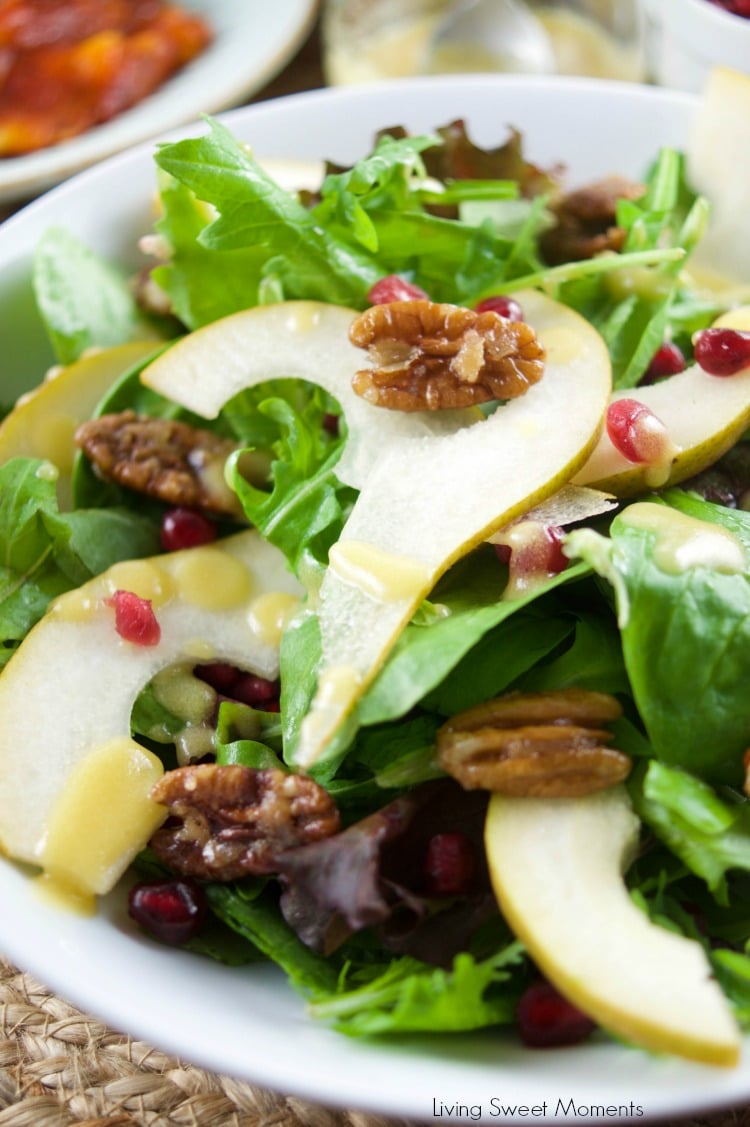 This tasty Pomegranate Pear Salad is served with candied pecans and drizzled with a mustard dressing. The perfect autumn quick salad to serve with dinner. This amazing Pear Salad has candied pecans, pomegranates, arugula and is dressed with a simple dijon mustard dressing. With every bite, you will get a little crunch, sweetness, and tanginess.
Instant Pot Cinnamon Glazed Carrots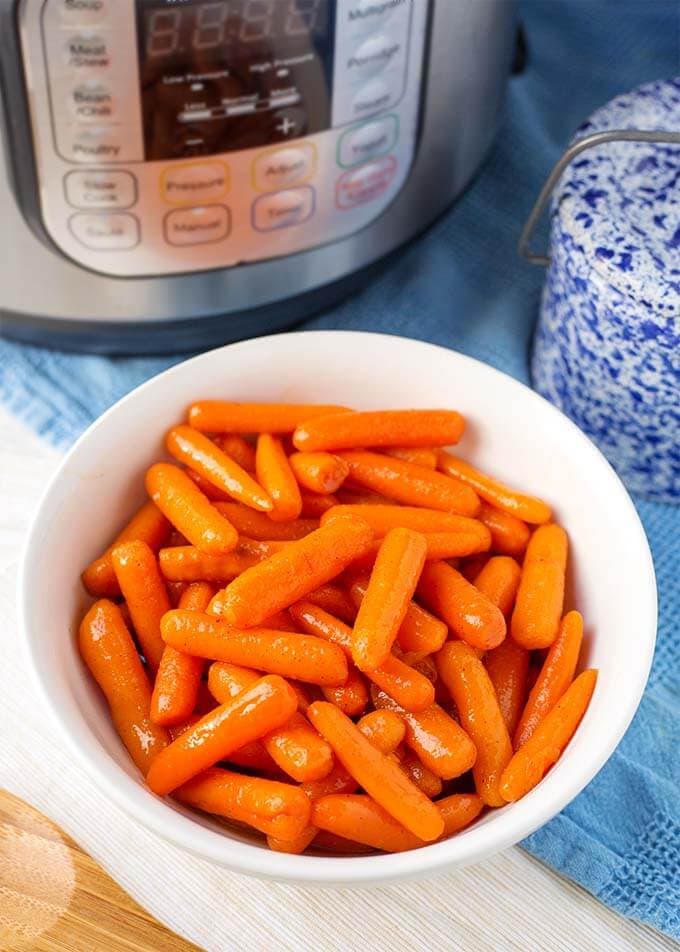 Instant Pot Cinnamon Glazed Carrots are delicious! Sweet and tender, with a hint of cinnamon and orange. Make these pressure cooker cinnamon glazed carrots for a Thanksgiving side dish, or anytime you want a more exciting vegetable side dish.
Thanksgiving White Chocolate Bark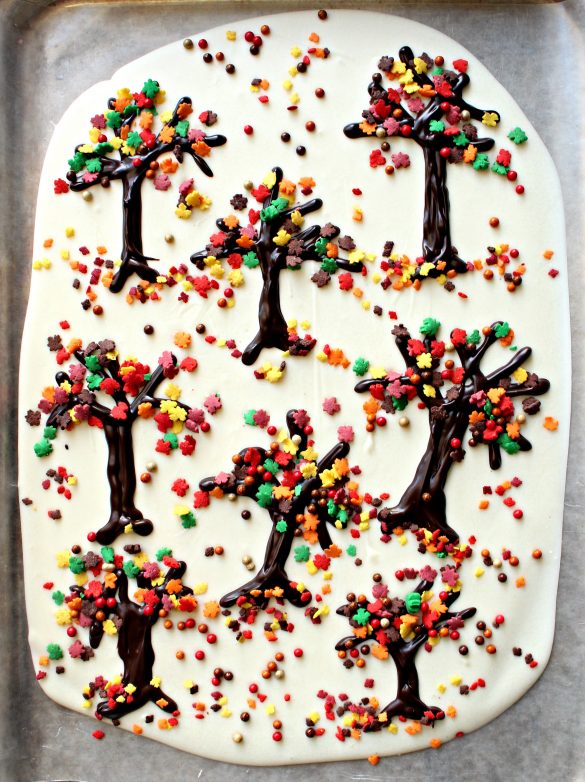 I've made it a tradition to share last minute holiday recipes that promise quick, easy and impressive results. Thanksgiving White Chocolate Bark delivers on all of those promises and more! This beautiful bark can be made and packaged for gift giving in under an hour.
Gluten-Free Sausage & Apple Rice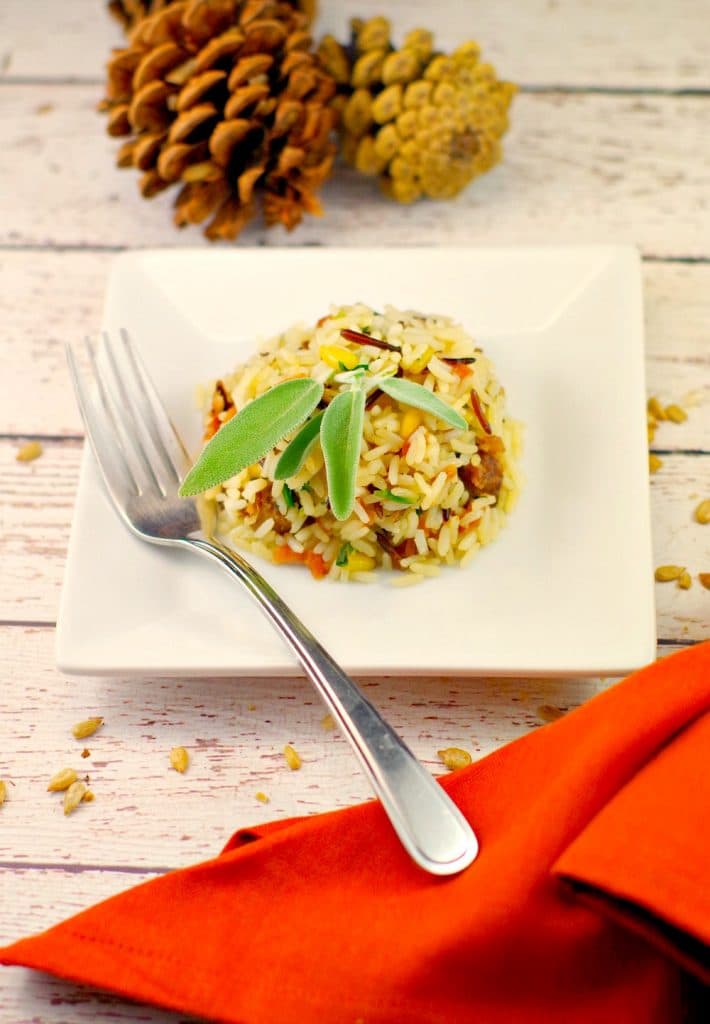 And Gluten-Free Sausage & Apple Rice recipe is the perfect opportunity to do just that – change it up, seize the day and add this recipe to your Thanksgiving menu! I use dried/dehydrated apples in this dish because they are quicker, there is no peeling, coring or cooking and they give the dish a such a unique texture that really works!
Butternut Squash & Cranberry Kale Quinoa Power Bowl
The best part about Autumn is this Butternut Squash & Cranberry Kale Quinoa Power Bowl. My kids have always been huge fans of salads, which is amazing. They're always up for trying new foods, so I thought making tasty healthy recipes with quinoa loaded with some veggies would be the perfect kickoff to our summer vacation.
Gluten-Free Apple Butter Bundt Cake With Cinnamon Glaze
Fall and winter are total bundt cake season, if you ask me. That's probably because these next months of the year are ALL about baking. Summer bundt cakes just don't seem like a "thing". Bundt cakes need some deep, rich, warming, sweet flavors to complement their beautiful shape and design. With it being apple season, this Gluten-Free Apple Butter Bundt Cake With Cinnamon Glaze sounds amazing.
Paleo Butternut Squash Soup
This paleo butternut squash soup recipe is so comforting for fall and winter! Creamy low carb butternut squash soup with coconut milk is dairy-free, nut-free and super easy to make. Summertime will always hold my heart, but as the years go by, I get excited about autumn more and more, every time it comes around. There's something heartwarming about the fall flavors of pumpkin, cinnamon, ginger, and butternut squash.
Paleo Pumpkin Spice Protein Cookies
These paleo pumpkin spice protein cookies are soft, chewy and so tasty. Looking for the perfect fall treat? These are the ones. Protein-packed, easy to make and super healthy, these delicious snickerdoodle protein cookies are also paleo, vegan, gluten-free, dairy-free, flour-less, grain-free and egg-free.
Apple Butter Crumble Bars
Apple Butter Crumble Bars have a cinnamon and oat crumble top and base with a homemade apple butter filling and sliced apple pieces covered in cinnamon and maple syrup for the ultimate apple crumble slice.
Naturally Sweetened Spiced Pumpkin Chai Tea
Creamy, spicy and simply divine! This Naturally Sweetened Spiced Pumpkin Chai Tea is caffeine free, has lots of fresh ginger, a delicious blend of spices and has Paleo and vegan options.
Chicken & Wild Rice Soup
Chicken and wild rice with chock-full of vegetables like mushrooms, celery and carrots is a hearty, flavorful soup. What I love about this chicken & wild rice soup is it can easily be transforming into a comforting meal with the help of the Instant pot. This soup is perfect for rainy days, when you crave something cozy, and comforting for dinner.
Stuffed Acorn Squash with Beef, Apple & Rice
An easy recipe for Stuffed Acorn Squash with Beef, Apple & Rice that's stuffed with a savory, slightly sweet & buttery filling of ground beef, apple, and rice. Fix this in about 40-45 minutes for an easy and healthy fall dinner recipe. This is a great meal to make when you're in a ground beef rut and need some fresh ideas using seasonal fall and winter ingredients.
Asian Chicken Noodle Soup with Sweet Potatoes
Couples, grab your chopsticks because we are going to let you in on a little secret. You don't have to a restaurant to get a good Asian noodle soup. Nope. You can make a fabulous soup in less than 30 minutes, it's actually easy. Using chop sticks??? Well that's another story. We use a fork and a spoon to eat our Asian Chicken Noodle Soup with Sweet Potatoes, because we are chopstick challenged.
Which of these Autumn recipes were your favorite?