Have you ever felt singled out when you have gone to church? Asking for a friend.
I walked into church today feeling singled out, because normally just me and my daughter go to church. Most everyone there is happily married with children or have been married for years. There are people who have been going to that church since they were little kids. I already feel like an outsider most of the time, but more or less being single and going to church is hard.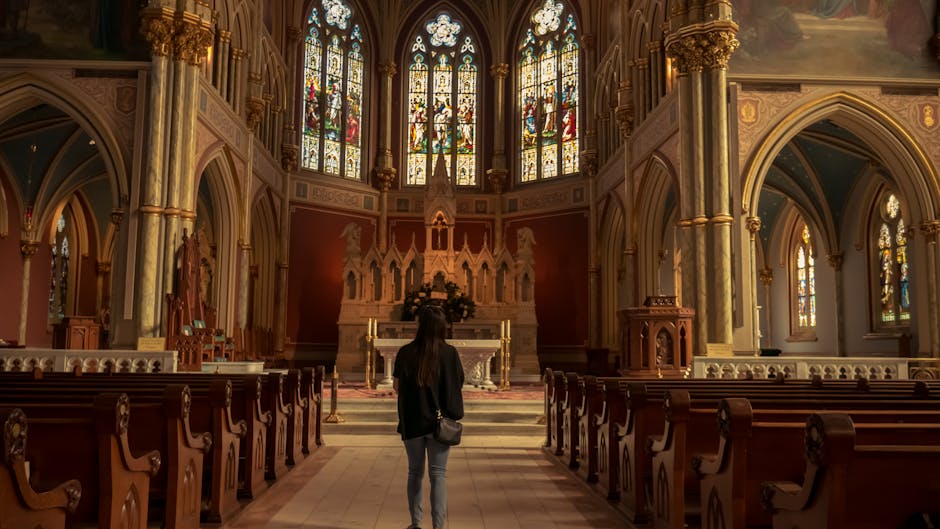 Last Sunday, the preacher told us they were starting a new series: about questions you have always wanted the answers to and the first one would be about being single. I've been "single" for four years now, but I've always been single before I was married as well. Honestly I think it's harder for people who have been divorce and single, then single in general. But at the same time, it's 10x harder for someone who is a SINGLE PARENT who is working while trying to balance their job, social life, kids and everything else.
1) Being Single is HARD.
You have those questions that drive you crazy: Will someone ever love me? Will someone ever love me for me? Will I ever be good enough? Am I too broken to be loved?
We are wired to have a companion, a partner, someone to be with us through the thick and the thin. Which can be a struggle for most single Christians, because how can we be faithful when you're still single?
We think that if we were single, we need to be fixed, but why can't we just be content with just being us. We aren't broken, we don't need to be fixed, we just need to be us.
45% of the US population is currently legally single. 1 in 50 millennials by the age of 50 years old will still be single and never married. Let that sink in your minds for a minute.
2) Being Single is NORMAL.
The church wants to encourage happy and healthy marriages, but if half of the church is single, they have to remember to include those single people as well.
Some facts about single people are they are more willing to be active in their community, they travel more, have more time to do things. That seems pretty normal to me.
But the most important thing when it comes to being single is that you need to find self worth and self love in YOURSELF and become whole with YOURSELF before you can go out into the world and find your better half. You are basically setting yourself up for failure otherwise, your marriage will fail, your relationship will fail if both people are not WHOLE to start with.
You have to be able to be full of life, joy and purple while being SINGLE, you have to fully embrace the season you're in. Take a deep breathe and relax and it's okay to be single, enjoy every minute of it.
1 Peter 5:7
Cast all your anxiety on him because he cares for you.
Be free from anxiety, there is hope and freedom in your single life – you can't fix yourself to find love, when you're already loved by God.
1 Cor 7:7 "I wish everyone was single.."
1 Cor 7:17 "lead the life that has been give to you.."
1 Cor  7:32-35
 I would like you to be free from concern. An unmarried man is concerned about the Lord's affairs—how he can please the Lord. 33 But a married man is concerned about the affairs of this world—how he can please his wife— 34 and his interests are divided. An unmarried woman or virgin is concerned about the Lord's affairs: Her aim is to be devoted to the Lord in both body and spirit. But a married woman is concerned about the affairs of this world—how she can please her husband. 35 I am saying this for your own good, not to restrict you, but that you may live in a right way in undivided devotion to the Lord.
3) Being single is an assignment.
Sometimes bad things happen to good people, because it was the assignment that has been given to them to overcome. For example, people who are separated and divorce that made them single, this wasn't their end game, this wasn't their plan, but it was the plan that God gave them.
4) Being single comes with freedom.
Marriage and being single comes with different types of freedoms. For single people, it tends to give them more free time and they can go about as they please. More time to travel, hangout with friends. (Not relatable for me, I am always working, what free time I do have, I try to sleep or spend time with my daughter or Skype my other kids.)
The best way to get yourself out there as a single person is to be interesting and to be interested in others. Don't be in a season of doom and despair, live your life in the moment and make the most out of your time while being single.
5) Being single brings focus.
Use this time while you're single to focus on yourself. Whether there's parts in your life you need to work on, better yourself, use your time wisely to do those things.
Even as a single mom, make your main focus on your children. You need to do all that you can do within your powers to be the best mom you can be and do everything to give them the best life you can. Don't let the stress of the unknown in the future get you down.
6) Being single requires community.
You need the church with you on your side, if you want to succeed instead of doing this whole life thing alone.
Married couples, make it a habit of including the single people of the church into your home, out with you and make them feel included. The last thing we want as a church is to make people feel more singled out then they already feel. There should be no lonely people in the church.
7) Being single is temporary.
Jesus is coming soon! Let's get married! haha just kidding.
This is something I hear pretty often and the question I have is, "how long is temporary?"
Fix your eyes on Jesus! Because while we know that being single is temporary, something to think about is that marriage is also temporary. Even though it's something we aim for, it doesn't always last like we hope it would.
The purpose of marriage is a reflection of what God's relationship with his people are. You want to find a partner that you can take over heaven with, someone to be by your side. Heaven is the same goal for everyone, but we all have different assignments we have to get done before we're able to get there. Not two assignments are the same, while being married or single.
Just remember, that being single is only temporary, God has a plan for you.